Preparing Your Delicious Pasture Prime Meat:
There's a reason chefs and high-end restaurants go out of their way to find the pasture-raised breeds we feature on our farm: the taste and meat texture are superior to industrially raised meats. Amazing meat doesn't require heavy spices, sauces, or marinades to dress up the flavor. For more recipe ideas, please visit our each category of meat or our Chef's Corner.
Below are some guidelines to keep in mind when preparing our grass-fed and finished meat, such as our Wagyu beef:
Thawing
Partially frozen beef cooks unevenly, so completely thaw the meat.
The best way to thaw is in the refrigerator for 12- 24 hrs.
For a quick thaw (not ideal) submerge the meat in its air-tight packaging in a large bowl of room-temperature water for a half hour. Change water every 10 minutes.
Cooking
Grass-fed meat requires about 30% less cooking time than grain-finished meat. It will continue to cook when removed from heat.
Grass-fed meat is best rare to medium. The meat loses its texture when cooked longer. FOR BEST RESULTS, PLEASE DON'T OVERCOOK.
The different fat composition in grass-fed meat causes the meat to appear pinker—use a thermometer for a guide instead of color.
Use tongs to turn the meat rather than a fork.
Salt to taste after cooking.
Tent the meat for at least 5 minutes before cutting and serving (longer for a larger roast).
Wagyu Flat lron Steak with Balsamic Glaze
1 flat iron steak, about 1 ¼ pounds.
½ tsp.salt
¼ tsp ground black pepper
1 tsp garlic powder
1 tbsp all-purpose steak seasoning
¼ cup balsamic glaze
Balsamic Glaze
Boil balsamic in a saucepan until boiling. Lower the heat and keep cooking until reduced. A pint bottle makes a half cup of glaze.
Directions:
ln small bowl, mix together salt, black pepper, garlic powder, and seasoning. Rub mix on both sides of steak. Refrigerate for at least 30 minutes or up to several hours.
Preheat grill to high or turn on broiler. Remove steak from refrigerator 15 minutes before cooking.
Place steak on grill and cook 4-5 minutes. Don't overcook. Meat should look rarer than you're accustomed to—Wagyu beef has more fat and a different texture, so it's important not to overcook.
Turn and move to a cooler side of the grill for another 5-6 minutes, depending on thickness of cut.
Remove from heat, tent with foil, and let sit for 5 minutes before slicing. Drizzle with balsamic glaze.
Braised Wagyu Beef Short Ribs
Courtesy of chef Suzanne Goin from Sunday Suppers at Lucques Cookbook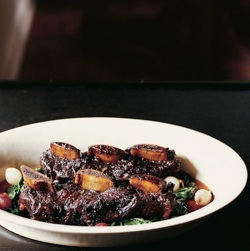 Ingredients
Short Ribs
Braised Beef Short Ribs
Photo Credit: Shimon and Tammar Rothstein
– 6 beef short ribs, 14 to 16 ounces each (ask for 3 bone center- cut)
– 1 tablespoon plus 1 teaspoon thyme leaves, and 4 whole sprigs thyme
– 1 tablespoon freshly cracked black pepper
– 3 dozen small pearl onions
– 1/2 cup extra-virgin olive oil
– 1 cup diced onion
– 1/3 cup diced carrot
– 1/3 cup diced celery
– 2 bay leaves
– 2 tablespoons balsamic vinegar
– 1 cups port
– 2 cups hearty red wine
– 6 cups beef or veal stock
– 4 sprigs flat-leaf parsley
– 2 bunches Swiss chard, cleaned, center ribs removed
– Kosher salt and freshly ground black pepper
Directions
Short Ribs
1) Season the short ribs with 1 tablespoon thyme and the cracked black pepper.
2) Use your hands to coat the meat well.
3) Cover, and refrigerate overnight.
4) Take the short ribs out of the refrigerator an hour before cooking, to come to room temperature.
5) After 30 minutes, season them generously on all sides with salt.
6) When you take the ribs out of the refrigerator, preheat the oven to 425°F.
7) Toss the pearl onions with 2 tablespoons olive oil, 1 teaspoon thyme, 3/4 teaspoon salt, and a pinch of pepper.
8) Spread them on a baking sheet and roast them about 15 minutes, until tender.
9) When they have cooled, slip off the skins with your fingers and set aside.
10) Turn the oven down to 325 degrees F.
11) When it's time to cook the short ribs, heat a large sauté pan over high heat for 3 minutes.
12) Pour in 3 tablespoons olive oil, and wait a minute or two, until the pan is very hot and almost smoking.
13) Place the short ribs in the pan, and sear until they are nicely browned on all three meaty sides.
14) Depending on the size of your pan, you might have to sear the meat in batches.
15) Do not crowd the meat or get lazy or rushed at this step; it will take at least 15 minutes.
16) When the ribs are nicely browned, transfer them to a braising pan.
17) They should lie flat, bones standing up, in one layer.
18) Turn the heat down to medium, and add the onion, carrot, celery, thyme sprigs, and bay leaves.
19) Stir with a wooden spoon, scraping up all the crusty bits in the pan.
20) Cook 6 to 8 minutes, until the vegetables just begin to caramelize.
21) Add the balsamic vinegar, port, and red wine.
22) Turn the heat up to high, and reduce the liquid by half.
23) Add the stock and bring to a boil.
24) Pour the liquid over the short ribs, scrap- ing any vegetables that have fallen on the ribs back into the liquid.
25) The stock mix- ture should almost cover the ribs.
26) Tuck the parsley sprigs in and around the meat.
27) Cover tightly with aluminum foil and a tight-fitting lid if you have one. 28) Braise in the oven for about 3 hours.
29) To check the meat for doneness, remove the lid and foil, being careful of the escaping steam, and pierce a short rib with a paring knife.
30) When the meat is done, it will yield easily to a knife.
31) Taste a piece if you are not sure.
32) Let the ribs rest 10 minutes in their juices, and then transfer them to a baking sheet.
33) Turn the oven up to 400 degrees F.
34) Place the short ribs in the oven for 10 to 15 minutes, to brown.
35) Strain the broth into a saucepan, pressing down on the vegetables with a ladle to extract all the juices.
36) Skim the fat from the sauce and, if the broth seems thin, reduce it over medium-high heat to thicken slightly.
37) Taste for seasoning.
38) Heat a large sauté pan over high heat for 2 minutes.
39) Tear the Swiss chard into large pieces.
40) Add 3 tablespoons olive oil to the pan, and stir in the cooked pearl onions.
41) Add half the Swiss chard, and cook a minute or two, stirring the greens in the oil to help them wilt.
42) Add a splash of water and the second half of the greens.
43) Season with a heaping 1/4 teaspoon salt and a pinch of ground black pepper.
44) Cook for a few more minutes, stirring frequently, until the greens are tender.
45) Place the Swiss chard on a large warm platter, and arrange the short ribs on top.
46) Spoon lots of braising juices over the ribs.
ULTIMATE SPICY WAGYU BEEF NACHOS
INGREDIENTS
SALSA
USE Your choice of Prepared Salsa
REFRIED BEANS
1/2 cup refried beans , canned
3 tablespoons shredded pepper Jack cheese
1 tablespoon chopped pickled jalapeño chile
SPICY PASTURE PRIME WAGYU BEEF
2 teaspoons vegetable oil
1 small onion , chopped fine
3 cloves garlic , minced
1 tablespoon chili powder
1 teaspoon ground cumin
1/2 teaspoon dried oregano
1 teaspoon salt
1 pound Pasture Prime ground Wagyu beef
2 tablespoons tomato paste
1 teaspoon brown sugar
1 medium canned chipotle chili , chopped, plus 1 teaspoon adobo sauce
1/2 cup water
2 teaspoons lime juice
ASSEMBLY
1 bag tortilla chips (9 1/2 ounce)
4 cups shredded pepper Jack cheese
2 jalapeño chiles (medium) , sliced into thin rings
DIRECTIONS
1. Adjust oven rack to middle position and heat oven to 400 degrees.
2. For the beans: Pulse ingredients in food processor until smooth. Transfer to bowl and cover with plastic wrap.
3. For the beef: Heat oil in large skillet over medium heat until shimmering. Cook onion until softened, about 4 minutes. Add garlic, chili powder, cumin, oregano, and salt and cook until fragrant, about 1 minute. Add beef and cook, breaking meat into small bits with wooden spoon and scraping pan bottom to prevent scorching, until no longer pink, about 5 minutes. Add tomato paste, sugar, chile, and adobo sauce and cook until paste begins to darken, about 1 minute. Add water, bring to simmer, and cook over medium-low until mixture is nearly dry, 5 to 7 minutes. Stir in lime juice and transfer mixture to plate lined with several layers of paper towels. Use more paper towels to blot up excess grease.
4.To assemble: Spread half of chips on large serving platter or 13 by 9-inch baking dish. Dollop half of bean mixture over chips, then spread evenly. Scatter half of beef mixture over beans, top with 2 cups cheese and half of jalapeños. Repeat with remaining chips, beans, beef, cheese, and jalapeños. Bake until cheese is melted and just beginning to brown, 12 to 14 minutes. Serve with salsa and other suggested garnishes.
Source: Cooks Illustrated